Typhoid is a bacterial disease caused by Salmonella typhi gotten mainly through contact with contaminated food and water.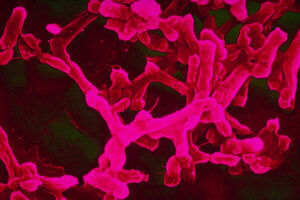 What Causes typhoid?
Typhoid occurs when a person gets infected by the Salmonella Typhi bacteria, this bacteria is mostly transmitted through food, unwashed fruits or drinking polluted/contaminated drinks or water, unwashed hands and contact with an infected person's poo and urine. 
How long does typhoid stay in the body?
The Typhoid bacteria incubate in the body for between 1-2weeks after which the first symptoms begin. Then a person can stay ill from typhoid from between two to three weeks depending on how quickly he gets medical attention. 
What are the symptoms of Typhoid?
Typhoid comes with several symptoms that show up either gradually or at once, these symptoms include;
High Body temperature (fever)
Headache
Constipation
Stomach Ache
General body Weakness and fatigue
Muscle aches
Diarrhea
Loss of appetite
Can typhoid be transmitted?
Typhoid is typically transmitted through two routes, the first is faecal transmission; the bacteria is transmitted when an infected person passes stool or urine and this contaminates water or food ingested by an uninfected person. Oral transmission occurs when contaminated food or water is now ingested.
How is Typhoid detected?
Typhoid can be confirmed through the analysis of the patient's blood, stool or urine. This would be analyzed for the presence of Salmonella Typhi Bacteria.
The Widal test do not confirm typhoid, some people would think it does but it does not. It is most often a waste of resources when using it to test for typhiod.
What drugs are used to treat typhoid?
Typhoid can only be treated with an antibiotic therapy, the commonly prescribed antibiotics are;
Ciprofloxacin (for non-pregnant adults)
Azithromycin
Ceftriaxone (injectable)
 Drinking lots of fluid to stay hydrated is equally advised for people suffering from typhoid.
What organs are affected by typhoid?
When typhoid enters the body it goes to the bloodstream and further affects the gastrointestinal tracts. Those severely affected are the spleen, liver, and muscles also the gallbladder can be affected also. 
Possible complications from typhoid
Typhoid can lead to some serious complications, this includes;
Holes in the intestine (Typhoid intestinal perforation); this most often would require surgery to treat.
Gastrointestinal haemorrhage
Pneumonia and anaemia
How to prevent typhoid
Frequent hand washing with soap and running water especially after using the toilet.
Drink clean water.
Avoid eating unwashed fruits and vegetables.
Vaccination for people older than two years.
Practice good sanitation
Share This on Social Media